Sewing the Seeds of Equality in Apartheid South Africa
In 1975, a group of 500 students traveled from the United States to South Africa during its years of government-enforced racial segregation. Among this group were 12 black students who witnessed that apartheid first-hand — Cal Poly Ethnic Studies Professor Denise Sheridan was one of them.
Almost 40 years later, Sheridan is sharing her story through the deep-rooted, African-American tradition of quilt making. The quilt that resulted from her experience, titled "In the Fortress of the Enemy, You Inspired Us," was catalogued in the book "Conscience of the Human Spirit: The Life of Nelson Mandela" — a collection of tributes to Mandela by South African and American quilt artists.

Denise Sheridan with her quilt commemorating 
the struggle against apartheid in South Africa. Courtesy of the Tribune.



Black students flout apartheid at a "whites only" taxi.



A Bantu mother in South Africa, 1975.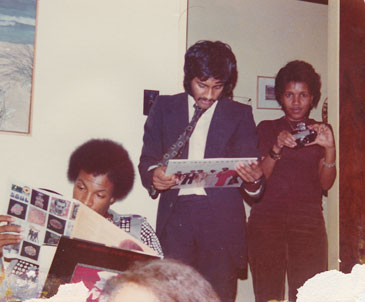 South African students with soul music records that were banned 
under the apartheid regime, but smuggled into the country.
"In the Fortress of the Enemy" was inspired by photographs taken in 1975 and recreated for a new generation. The quilt gives viewers a glimpse into the events that planted the seeds of change in South Africa that Sheridan saw blossom.
On the quilt, Sheridan depicts scenes that include the Robben Island prison; an array of pots and pans with contraband newsprint affixed underneath; a taxi with two black men leaning on it despite the "White Only" designation; and a group of young people sifting through LPs and records of Stevie Wonder and the Isley Brothers.
"Why did having these images of records matter? Because those things were illegal for South Africans to have, and we smuggled them in," Sheridan said.
"When I was there as a 19-year-old student, we were not allowed to travel the country freely because we were not white," Sheridan said. "I saw what we call 'colored and black African families and individuals' carry themselves with fear and shame: heads down, shoulders hunched, just looking very afraid physically."
According to Sheridan, the sights and sounds of 1975 South Africa also hinted at the beginning of something bigger. She knew the year was a vital historical moment and that she stood in the middle of something larger than herself.
"I said to people when they would ask me about my trip, 'The eyes of the world are going to be on South Africa. I don't know when, but it's coming. It's going to happen,' because I could feel it when I was there," Sheridan said. 
Only a year later, black South African high school students protested a government decree that made Afrikaans and English the official education languages, showing the government's attempt to impose Afrikaans at the expense of the indigenous language. The protests resulted in hundreds of unarmed students being beaten down by police.
After visiting South Africa in July for the first time in 40 years, Sheridan noted a more inclusive society as a result of the political revolution. However, Sheridan believes that an economic revolution is necessary for all its citizens to experience true freedom.  She is now working to support that revolution as well.
Sheridan also vividly recalled her effort to productively make sense of every part of the country's history. "The inspiring aspect I reflect on most is this notion of how the country and the people have tried to embrace their history — even the prickly, ugly, hurtful and painful parts," Sheridan said. "You see their experience as a South African indigenous people, and there's an effort to embrace that history."
Sheridan's quilt is, in many ways, a celebration of South Africa's work to move forward as a country and people. 
Related Content